ALL INCLUSIVE DESCRIPTION
(All Inclusive is valid from 07:30-23:00, alcoholic drinks 10:00-23:00)
Food & Beverage Services
AMADEUS MAIN RESTAURANT
All meals are served in a buffet style
Smart dress code is required for dinner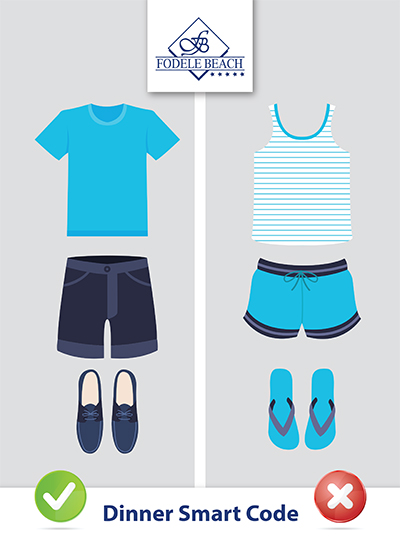 Early Breakfast: (05:00-07:00) Main Restaurant available upon request one day in advance at reception.
Continental Breakfast (07:00-07:30) Main Restaurant "Amadeus"
Full Buffet Breakfast (07:30-10:30) Main Restaurant "Amadeus"
Lunch Buffet & Show Cooking (12:30-14:30) Main Restaurant "Amadeus"
Dinner Buffet & Show Cooking (18:30-21:30) Main Restaurant "Amadeus"
Late Dinner (21:30-23:00) Light Buffet – Snacks, Main Restaurant "Amadeus"
Lunch Baskets Available upon request at reception one day in advance until 19:00
Seven theme buffets per week (Greek,Around the world, Italian, Cretan,Fish,Asian,Gala Dinner)
Drinks during meals in main restaurant: water, soft drinks, juices, local Beer & house local wine. Unlimited consumption of food & beverages during the meals
"F" ΑLL DAY RESTAURANT
10:00-18:00 Various choices of  Pizza-Pasta, snacks, salads, show cooking, grill, ice cream (12.00-17.00), fruits
16:30-17:30 coffee,tea and cookies time
Beverages provided: Soft drinks,juices,water,coffee & tea, vermuth, raki, ouzo, local Beer & house local wine
THEME RESTAURANTS (19 :00 – 22:00)
"Elia" (Cretan Cuisine)
"Ambrosia" (Italian Cuisine)
Drinks during meals: water, soft drinks, local beer & local wine
Once per week, for each guest for each Restaurant, reservation is required
Bars
Belvedere Cocktail Bar at the lobby area, self-service (17:30 -01:00). International and Local Alcoholic Drinks (brand names),Cocktails, Soft drinks, Juices, Aperitifs, Local Beer & house local wine, all brand names.
Starlight Bar* at main plaza area, self-service (17:30 -01:00). International and Local Alcoholic Drinks(brand names),Cocktails, Soft drinks, Juices, Aperitifs, Local Beer & house local wine, coffee & tea
Starfish Beach Bar*, self-service (10:00 -18:00). Beverages provided: Soft drinks,juices,water, coffee & tea, vermuth,r aki,ouzo, local beer & house local wine.  Light snacks & fruits also provided
*open air, weather permitting
Animation - Events
Folklore Cretan/Greek live band with dancers
Magic show
Acrobatic show
Live Pop band music
Cuban/Brazilian show
Hotel's Animation team show
Sports Activities*
Tennis
Mini golf
Water polo
Gymnastics
Aerobics
Aqua Gym
Table Games
Bingo
Table Tennis 
Beach soccer
Basketball
Darts
Beach Volley
Archery 
Boccia
Various tournaments
Gym-Fitness room 08:00-20:00. Modern and brand new machines,run/jog corridor,bike-synchro-recline,chest press,overhead press,arm extension,arm curl,lat pulldown,leg curl,leg extension. (Entrance is not allowed for children under 16 years old even if adults accompany them)
Personal training is also available
Mini Club 4-12 years old (10:00-18:00) 6 days per week
Mini Disco (20:30 -21:30) 6 days per week
Water Park
Open daily 10:30-18:00 *
Private,for hotel guests only, with 7 slides and 6 pools all with fresh water, depth 1.40 m
There is also children's area with slides and shallow pool 0.40 m
Water park and procedures are certified by ISO EN 1069-1&2 2010, supervised by  professional safety guards 
Windmill Bar* at the Water Park open on specific hours, self-service, offering snacks, coffee&tea, and soft drinks.
For safety reasons consumption of  alcohol is not allowed in the Water Park area.
* weather permitting
Wellness Center*
Multiple treatments such as face and body massages, face and body beauty treatments scrubs, wraps, manicure and pedicure. (extra charge)
Beach Facilities
Starfish Beach Bar*, self-service (10:00 -18:00)
Beverages provided: Soft drinks,juices,water, coffee & tea, vermuth, raki, ouzo, local beer & house local wine
Beach towels (change 3 times per week) 
Sunbeds and umbrellas
Showers – Changing cabins – WC
Lifeguard on duty 1st June – 30th September
Water Sports (extra charge)
Water Ski
Crazy Sofa
Fly board
Pedaloes
Canoe
Banana
Jet Ski
Wake board
Diving (extra charge, external partner)
Diving lessons for adults and children
Scuba diving in various depths
Open water diver
Equipment rental
Diving excursions
Other facilities & services 
Hairdressing (extra charge)
Baby sitting (extra charge)
Doctor on call (extra charge)
Bicycle rental (extra charge)
Laundry service/dry clean (extra charge)
Photographer (extra charge)
Courtesy/luggage room
Conference halls
24 hours reception
Express check out service
24 hours luggage service
Laptop & tablet dispense
Room service 24h
Wifi: Free of charge,standard speed in specific public areas only. Extra charge with exceptional quality through optic fiber in all hotel areas
Check In / Out
Check in 14:00.
Check out 12:00. Late check out is provided (upon availability) with extra charge
BINDING TERM ALL INCLUSIVE: Upon arrival all guest (children also) will wear an   anti- allergic hotel wristband for the whole stay
Upon arrival each guest (kids also) will wear an antiallergic hotel wristband from reception (for the whole stay), to enjoy the "all-inclusive" services. 
FODELE BEACH & WATER PARK HOLIDAY RESORT reserve the right to make changes to all facilities and services mentioned in this description without any prior notice. 
Contacts
Phones: 0030 2810 522 000
Fax: 0030 2810 522 009
Web page: www.fodelebeach.gr
E-mail : fodele@fodelebeach.gr